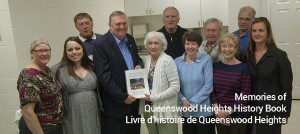 The book  on Queenswood Heights is completed.  It is approximately 200 pages,  spiral bound with lots of pictures, including 10 pages of colour,  and many quotes from local residents and information on events over the last 50 years.
We've included a sample of page 1.
Books are available at the Queenswood Heights Community centre, Monday, Tuesday, Wednesday evenings from 6:30 – 8:30 pm
or  if you are interested in a history book please call:
Allen at 613-824-1188 or Sue at 613-850-4166 and we can arrange to meet.
Cost is $25.00
Books are also available at:
SURE PRINT AND GRAPHICS
2507 St. Joseph Blvd.
Monday to Friday, 8:30 a.m. to 6 p.m and Saturday 10 a.m. to 4 p.m.